On Monday 06th July 2009 in Ferra, Italy in the castle ESTEE NSE, held the International Conference on the occasion of the beginning of the EU-WATER project. Gathering was organized by the Province of Ferrara in the project by the European Union in the framework of international cooperation between countries South-East Europe.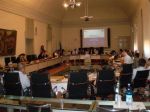 At the confernce was present eminent participants from eight countries (Hungary, Romania, Moldova, Ukraine, Greece, Croatia, Italy, and Serbia. Institutions in the present paper were:
Province of Ferrara – Italy lead prartner
Province of Rovigo – Italy
Trans – Tiszanian Inspectorate for Environment, Nature and Water – Hungary
University of Debrecen – Hungary
Region of Western Macedonia – Greece
Aristotle University of Thessaloniki – Greece
Ministry of Agriculture and Rural Development – Romania
National Institute for Research and Development for Soil Science, Agricultural Chemistry and Environment of Bucharest - Romania
Agency for Rural Development of Istra – Croatia
Institute of Agricultural Economics of Belgrade, Serbia
Odesa National Polytechnic University – Ukraine
Ialoveni Rayon Council – Republic of Moldova
The aim of the conference was to present participants their plans of activities during the EU-WATER project and specify their activities in the targeted areas.
In front of the Institute of Agricultural Economics from Belgrade to participate in the work of conference took the director of the Institute Prof.. Dr. Drago Cvijanovic and Predrag Vuković.